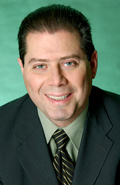 <! -- @@@ CELL # Tel: 416-919-2382 @@@ -->Tel: 416-968-1444
E-mail
Case Study
"My mission is to help my clients achieve their financial goals and to safeguard the assets they have worked so hard to accumulate."
Paul joined Moneystrat in 1998 and holds a Bachelor of Arts (BA) from the University of Toronto. He has also earned the professional designations of Certified Management Accountant (CMA) and Chartered Financial Analyst
®
(CFA
®
). Paul has a strong commitment to continuing education and investment research and is a Trading Officer of Moneystrat Securities Inc.
Paul has worked on both the institutional and private sides of wealth management since 1989. His expertise includes investments, financial planning, taxation and estate planning.
Testimonials
"I initially engaged Moneystrat in the planning of my retirement portfolio, but quickly learned that their capability extends well beyond helping me save. My advisor, Paul Mancuso has taken a holistic, portfolio approach that includes tax, insurance and estate planning. The Moneystrat philosophy is embodied in their constant communication with us throughout the year, in stark contrast to the once-a-year RRSP phone call that most organizations market as 'planning'. Now that we have children, Moneystrat's communications with our family are more important than ever."
- Pravin Rodrigues