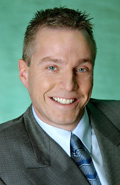 <! -- @@@ CELL # Tel: 416-571-0778 @@@ -->Tel: 416-944-8817
E-mail
Case Study

Vice President
Moneystrat Securities Inc.
"Informed clients make better decisions, so I have a very strong commitment to ongoing communication. I am more than willing to spend the time explaining financial concepts and strategies, as well as the different types of financial products available to you."
Geordon joined Moneystrat in 1990 after graduating from Brock University with a degree in Business Economics. In 1995 he completed the Branch Managers examination and was promoted to Branch Manager. In 1996 Geordon completed the Partners, Directors and Officers Exam and Options Exam. He was promoted to Vice President and Trading Officer in 1997.
Geordon successfully completed the Certified Financial Planner
®
program in 2004 and was granted the Certified Financial Planner
®
(CFP
®
) designation.
Testimonials
"In January 2007, we moved to Wasaga Beach and realized our retirement dream. For twenty years, Moneystrat has worked with us to make that dream come true. We can't thank them enough."
- The Wrights
"Geordon has been handling our accounts for the past four years. We've been very satisfied with his decisions and judgements in regard to our investment accounts. Geordon is very professional, personable and he is always prompt with return phone calls or information we have requested."
- C. and G. Jesshope
"I receive clearly readable monthly statements as well as relative market information and RSP information like clockwork. Geordon goes above his call of duty to ensure that my investments are working for me."
- B. Rutter
"I have the highest regard for Geordon's knowledge and judgement in investment matters and recommend him without hesitation to anyone in need of such service. For me, his services have brought great peace of mind."
- M. Wood